BRIEF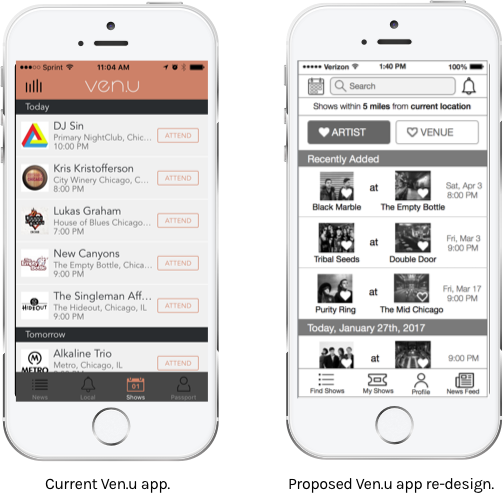 Ven.u is a concert discovery app for users in the Chicago area. Ven.u engaged my team of 3 designers to re-design the app by performing research, rapid prototyping and usability testing. At the end of 3 weeks, we delivered final wireframes of a concert discovery and planning app with a customer loyalty rewards program. In this project, I learned to draw from my previous project management experience to lead a design team using Scrum sprint cycles.
CURRENT STATE
The co-founders of Ven.u hadn't performed any user research or testing. Ven.u asked our team to perform these tasks to discover what the needs of their user base were. During our kickoff meeting, our clients expressed the following assumptions about their users:
Concert-goers need a way to stay up-to-date on their favorite artists and genres, revisit show history with setlists from shows they've attended, and receive rewards for frequent attendance. – Ven.u
Our clients recognized that they were competing in a saturated digital product space, yet they felt that they offered a unique product by allowing users to save their concert history. When we began working together, they were collecting this history with passive check-ins in the app. Our clients sought to sell the concert attendance data to venues to give them valuable insights on their customers.
We performed concept testing and heuristic evaluation on the current state of the Ven.u app to identify any strengths and weaknesses and inform areas to explore during user research.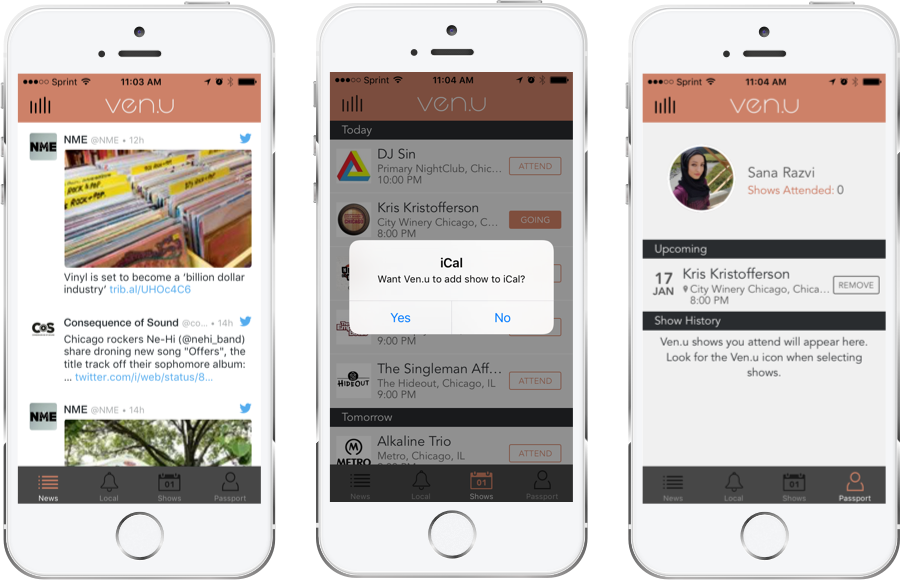 We gained the following key insights during concept testing:
Many users did not allow access to location services as they were not convinced that providing access would benefit them.
Users wanted the ability to customize the news feed by location, artist or venue.
Users expected to see a link to buy tickets on the show details page in the app.
Users like being able to save shows to their personal calendar. Many users did not use iCalendar and were looking for alternative platforms.
Users were not interested in viewing concert history. They expressed an interest in saving photos of the event.
RESEARCH
We researched direct and indirect competitors competitors to compare Ven.u's current state with the competition. We reviewed 24 competitors and found that they shared many common features. We created a checklist to compare the features offered.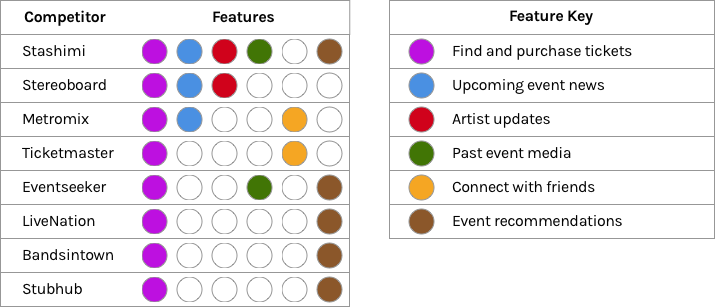 Most allow users to discover concerts and buy tickets. Bandsintown scans user music libraries in services like iTunes and Spotify to allow users to track concerts by their favorite artists.
Few provided upcoming event news. Metromix provides news for upcoming events including concerts, theatre shows, festivals and art exhibits.
Few gave artist updates. Stashimi allows users to follow artists and get latest social updates, news, music, videos and events in your local area.
Few contained past event media. Eventseeker contains bios and videos for bands, sports teams, comedians and more.
Few allowed users to connect or plan concerts with friends. Ticketmaster users can share events they are attending with Facebook friends and see what shows their friends are attending.
None allowed users to save concert attendance history.
When we researched the demographic of concert-goers in the United States, we found that the most active concert-goers are between 35 to 54 years old followed by millennials in the 18 to 34 age group. We decided to interview users between the ages of 18 to 54 to target these groups (U.S Live Event Study, 2014).
During our research, we came across a study of concert-goers in the United States conducted by Bandsintown. Bandsintown interviewed 1600 concert-goers and came up with 5 types of concert-goers (Bandsintown, 2012).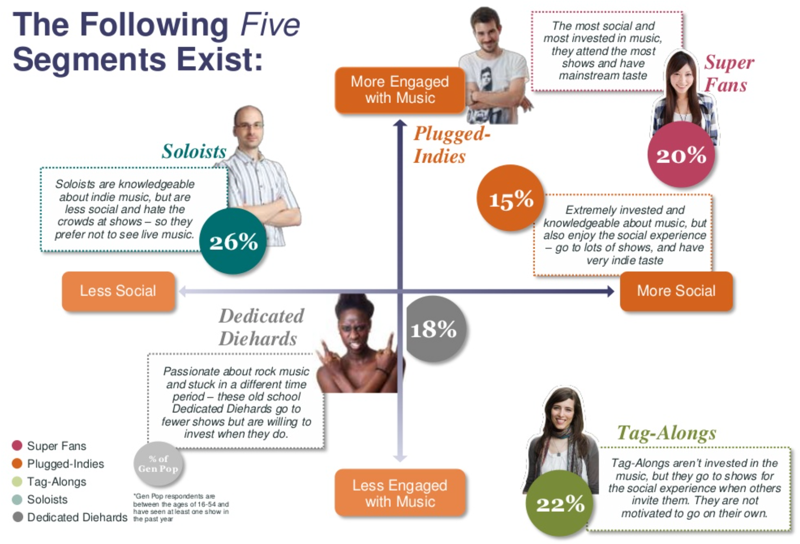 Types of concert-goers graphic created by Bandsintown.
We found that Bandsintown "Plugged-Indie" concert-goer most closely resembled our clients' assumptions of their target user. We decided to revisit these proto-personas at the end of research interviews to see if our users aligned with any one (or more) of them.
When we looked into social media usage of concert goers, we found that the majority use Facebook and/or Twitter to find out about or engage in conversation about concerts.
Event sharing on Facebook.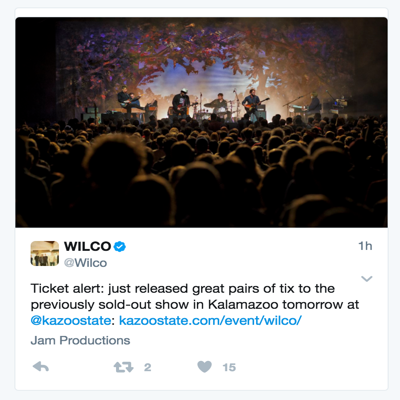 Concert updates on Twitter.
Over 50 percent of music fans engage with their band through social media channels. Recognizing the prevalence of social media usage, we asked people about their social media habits during user interviews.
INTERVIEW
We needed to learn more about the live music industry that Ven.u sought to target. To achieve this, we conducted interviews with Chicago-based venue managers and artists. Our research goal was to understand how artists and venues interact with each other and with their concert attendees.
We learned that social media can be a useful tool for artists to promote their concerts. However, social media is only effective if artists have a strong social media following:
Social media effectiveness depends on the band. Whether or not they have a presence and if they attract a demographic that users social media – Sarah, Venue PR Manager
Artists like Darrin expressed the difficulty with promoting shows and lack of support from venues:
It's kind of upsetting that venues don't do more to promote shows – Darrin, Drummer
Some venue managers were experimenting with frequent customer rewards programs and expressed dissatisfaction with the results. They wanted to improve programs to attract repeat customers:
I would rather have a most valued customer rewards program where you get points for every time you come instead of our current VIP program – JB, General Manager
One of the greatest pain points was the lack of coordination in promotional efforts between artists and venues. We sought to learn more about the relationship between concert-goers, the venues they attend and artists that they follow.
We developed our interview script to ask general questions about concert experiences and specific questions about potential Ven.u features. We quickly discovered that concert-goers were using multiple sources of to find out about shows.
To find out about shows, I use artist email lists, word of mouth, and venue social media feeds – Chelsea
While concert-goers were using a variety of methods to discover concerts, very few of them were using apps for this purpose. Among those that used a music discovery app, the most common one was Bandsintown.
Many concert-goers also expressed a preference for specific intimate venues:
I like the Vic Theatre since it hosts artists that don't tour often because it's a small venue and the atmosphere is electric when fans are in there – Paulette
Concert-goers preferred intimate venues because they felt that they were able to enjoy the concert without distractions from people who weren't as passionate about the music as them. Overall, the users we interviewed displayed similar preferences to the Bandsintown 'Plugged-Indie' proto-persona.
We asked our interviewees about rewards programs and what they liked about them. Only one of the ten people we interviewed had experience with a concert venue reward program:
If I bought anything at the 9:30 club in DC, I collected points that I could redeem for merch, tickets, etc. If a venue here had a rewards system like that, I would absolutely sign up – Dane
All our interviewees said they liked reward programs where they receive cash-back or points that they can exchange for things that they want.
Seeing as how there were many factors influencing concert experiences and behaviors, we decided to create a proto-persona and empathy map to better understand our target user before synthesizing our research.
EMPATHIZE
We developed a proto-persona named Jeremy to represent the needs, goals, motivations and frustrations of the users that we interviewed. I suggested creating an empathy map to explore the feelings of our users towards concert experiences.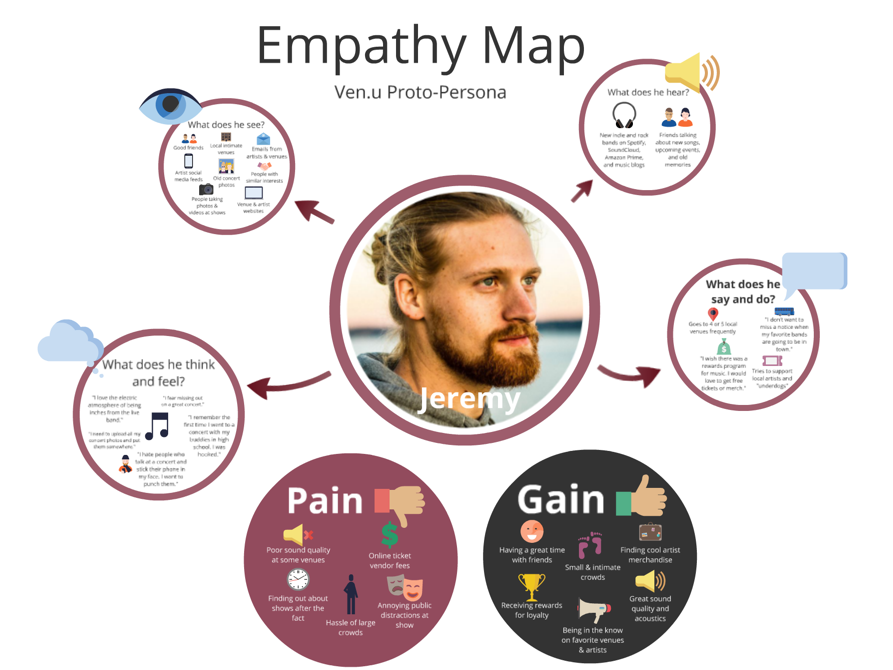 Jeremy's empathy map revealed his fear of missing a desirable concert as well as a fear of having a poor concert experience. Jeremy's needs are met when he is aware of upcoming concerts and when the concerts he attends are of good quality.
View Jeremy's Empathy Map in more detail.
We successfully gained insights into the relationship of our users with their concert experiences. Yet we were missing an understanding of how their feelings correlate to the pre, during and post-concert phases. I suggested following up the empathy mapping exercise with the creation of a journey map that would allow us to place the feelings we had identified on a timeline.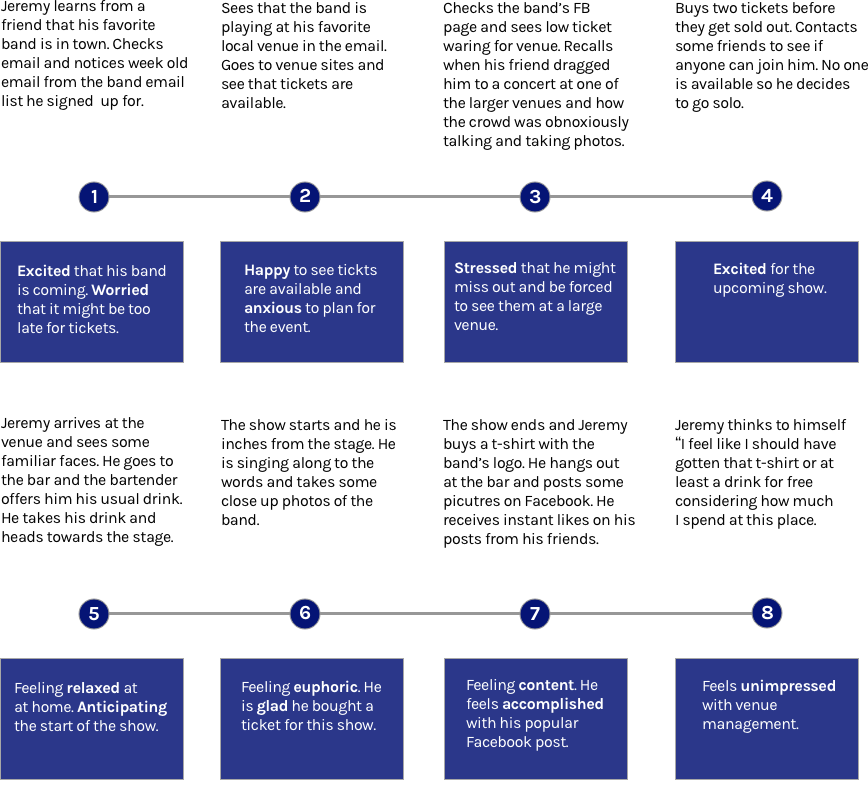 Mapping Jeremy's thoughts, feelings and actions on a timeline showed stress in the concert discovery and planning stages prior to the concert. The concert experience itself is a positive one for Jeremy as he is able to see one of his favorite bands at a familiar venue. An opportunity is revealed after the concert ends when Jeremy is left without incentive to return to the venue he is loyal to.
SYNTHESIZE
I synthesized our research findings and came up with the following problem statement that was adopted by the team:
Concert-goers that frequent small to medium local venues receive concert information from a variety of sources including email lists, websites, social media and word of mouth. Concert-goers need a personalized aggregate source in order to be promptly notified about upcoming concerts by their favorite artists at their preferred venues to ensure that they can experience live music in an intimate setting. Is there an opportunity to incentivize and reward concert goers for venue loyalty?
We developed design principles to complement our problem statement in guiding our design solutions. These design principles were referenced during ideation and concepting.

I reminded the group that we would need to be cognizant of our client's business objectives. We identified the overlapping interests between the concert goers, venues, and artists to determine opportunities that would benefit each of these parties and ultimately support our client's goals.

These opportunities brought up some key questions that we sought to answer by the conclusion of the project.
With so many competitors and sources for live music discovery, what are the differentiating factors of Ven.u?
Are rewards an actual need or a distant nice-to-have? Should they be venue-specific or Ven.u-wide?
How can we give users the ability to weigh both artist and venue preferences when deciding what shows to attend?
COMPARE
We felt that we lacked an understanding of the current methods users were utilizing for concert discovery. To bridge this knowledge gap, we took a closer look at some competitors and venue websites that users mentioned using during interviews. We also reviewed successful rewards programs that we could draw inspiration from during concepting.
Live music competitors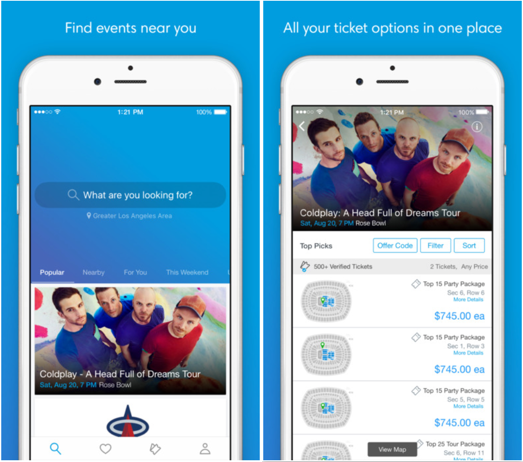 Ticketmaster app
Comparing live music competitors showed us that most of them allow users to personalize their concert listings. All competitors allowed users to buy concert tickets. Most of them did not allow users to save events to their personal calendars. There was also a lack of listings for concerts at small local venues as well as prioritization of show listings by specific venues.
Venue websites
Thalia Hall website
Comparing venue websites revealed that most sites provide links to venue social media pages. These sites often include photo albums of past shows at the venue. The primary goal of these sites is to inform users about upcoming shows and allow them to buy tickets.
Reward programs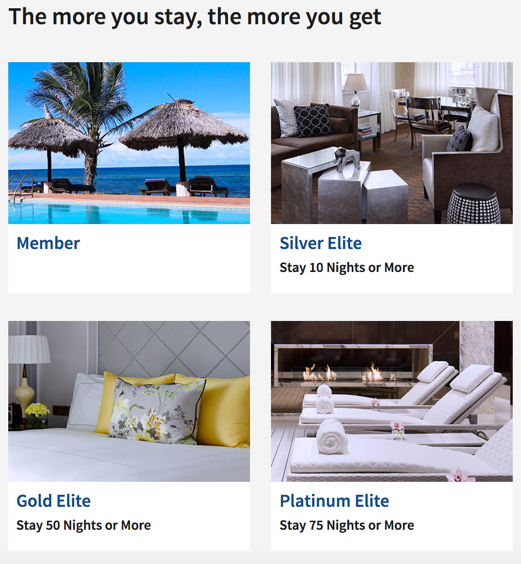 Marriott Rewards program
We reviewed several different types of rewards systems. Some systems allow accumulation of rewards by tier, while others are cumulative without tiered status. Many successful rewards systems provide basic or sign-up rewards to all members.
We proceeded to concepting potential solutions with our problem statement, design principles, business opportunities and comparative analysis in mind.
IDEATE
The key elements of our initial concept included show discovery, accumulation of rewards and a news feed for local concert news. I came up with a few methods to allow favoriting of venues along with favoriting artists to test with users.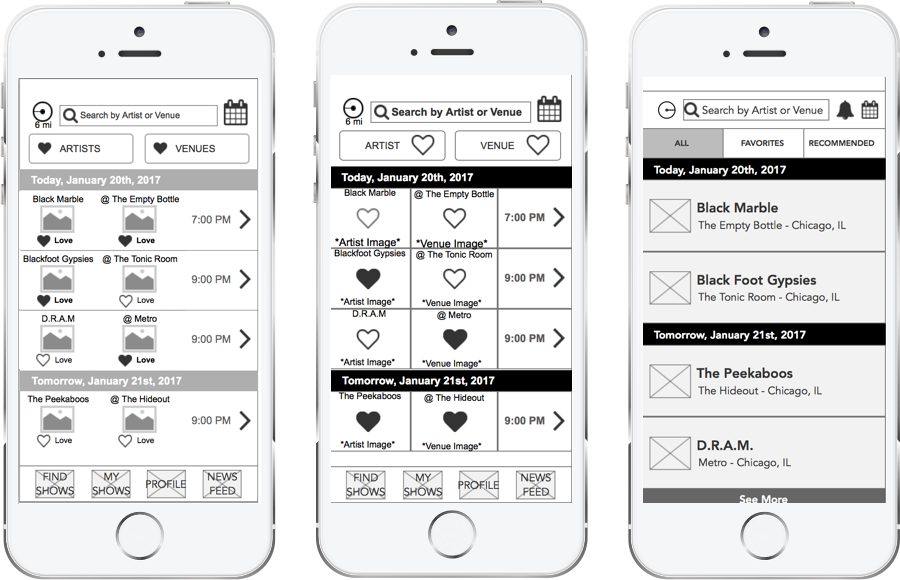 Find shows page concept prototypes with various methods of favoriting.
When they were shown the various concepts, users said that they liked the ability to favorite artists and venues from the discovery page. Yet many users were confused by the multiple favoriting options on one page. Users liked the visuals on the page and preferred a combination of column structure of information with subheadings to display show dates. Based on this feedback, we decided to include a chronological listing of shows with the ability to favorite and unfavorite directly within listings.
We explored different ways of incorporating a user rewards program as informed by the comparative analysis we completed. We tested a tiered rewards program that was venue-specific so users would get rewards for venues that they frequent often. We also tested a cumulative app-wide rewards program where users would accumulate points regardless of which venues they attend.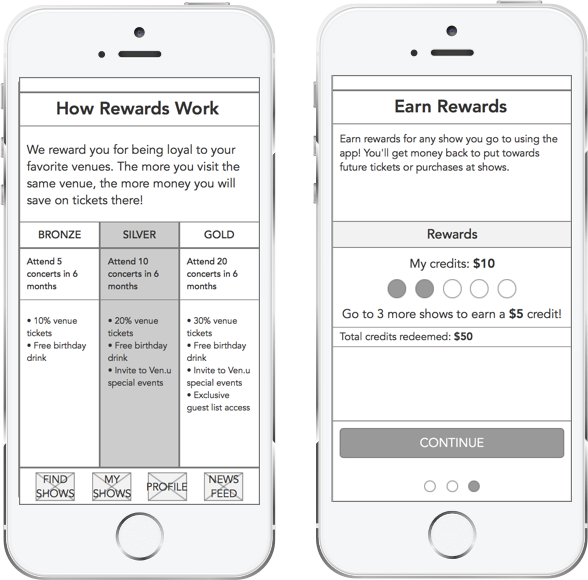 Rewards program concepts.
Users responded favorably to the app-wide rewards program and they expressed interest in redeeming points they earn for concert tickets or items at the concert. Users did not like the venue-specific rewards program as they felt that they did not frequent the same venue enough to gain some tangible benefit. We decided to include an app-wide cumulative rewards system in our final concept based on user feedback.
We tested a few versions of the news feed for local concert news. One concept displayed a general news feed with options to filter results by specific criteria. The other two concepts allowed users to filter articles by their favorite artist, venue, or a combination of both.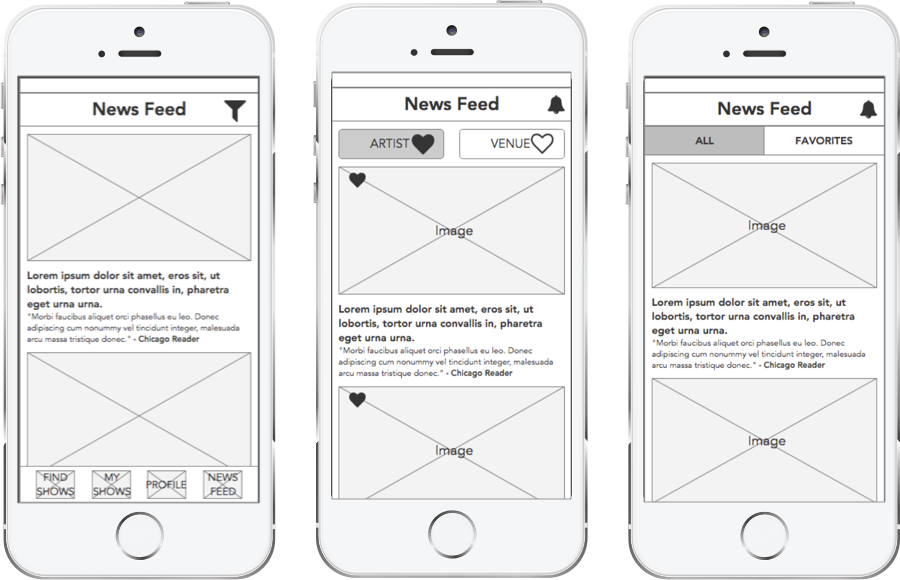 News feed concepts.
Users wanted the ability to see news from their favorite artists and/or favorite venues as default but also wanted the option to view all local news. Our final concept gave users a news feed with news from favorites only and the ability to toggle to view all local news
TEST
We combined the successful elements in concept testing into one mid-fidelity Axure prototype to test with users. The objectives of user testing were to confirm if users understood:
How rewards work.
How to favorite artists and venue.s
Call to actions and icons.
Filtering to find shows of interest.
We tested a task flow in which the user signed up as a first time user and progressed through onboarding. They were asked to express interest in a specific concert in the show listings. The user received a reminder about the show and was prompted to buy tickets. Finally, the user received a notification request from the app to check-in when it detected that they were at the show location. The user received reward points for successfully checking in at the show.
Our pre-test onboarding started with an explanation of the rewards system. Users found this explanation confusing as they were expecting to see an introduction to the app instead.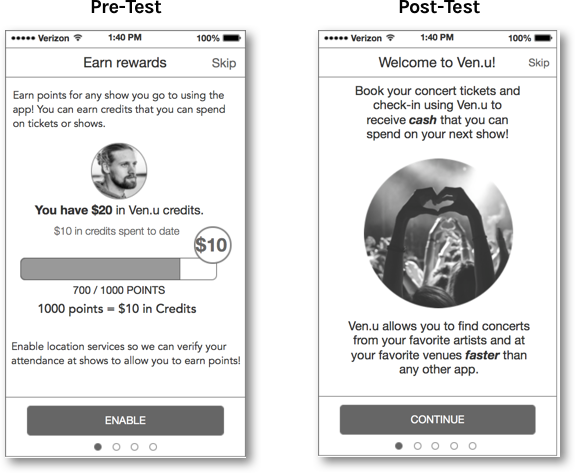 We changed the order of the onboarding flow to feature an introduction to the value proposition of the app first and moved the rewards explanation to the end of the flow.
Our pre-test rewards explanation in onboarding showed how rewards work in the context of a user that had already earned points in the app. Users found this confusing as they weren't sure if they had earned these points. Users said they would be more inclined to use the app if they started off with some points for signing up.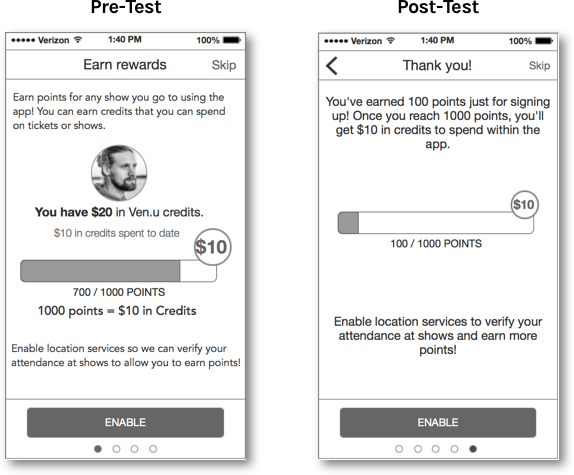 I changed the rewards explanation onboarding page to show that the user had received 100 points for signing up and what this meant in terms of credits. We also requested for the user to enable location services immediately following receipt of reward points.
Users found the display of reward points and credits in their profile page to be confusing in the pre-test version. They were not sure how many credits they had and how many points they needed to earn more credits.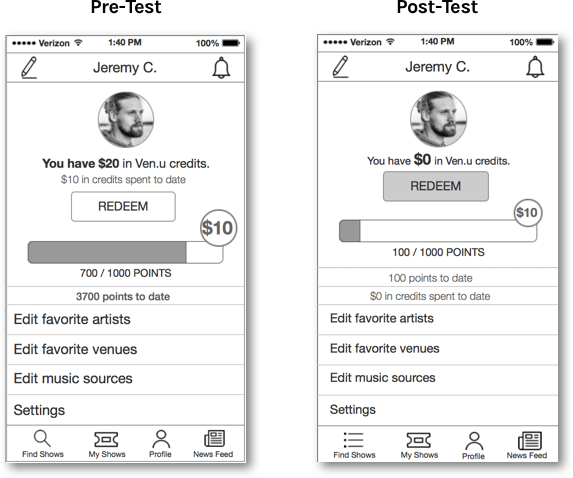 I changed the location and hierarchy of text to emphasize the user's current credits and clarify how many points they needed to earn more. I also grayed out the 'redeem' button to show that it was inactive.
We made a few other minor changes based on user input. We added a recently added section to the 'Find Shows' page and rearranged items on the venue details page to focus on the most important information.
FINALIZE
Click here to view a video walkthrough of the final prototype.
Personalize favorites
Users are asked to sync to music accounts and select their favorite artists and venues in on-boarding to personalize the show discovery experience.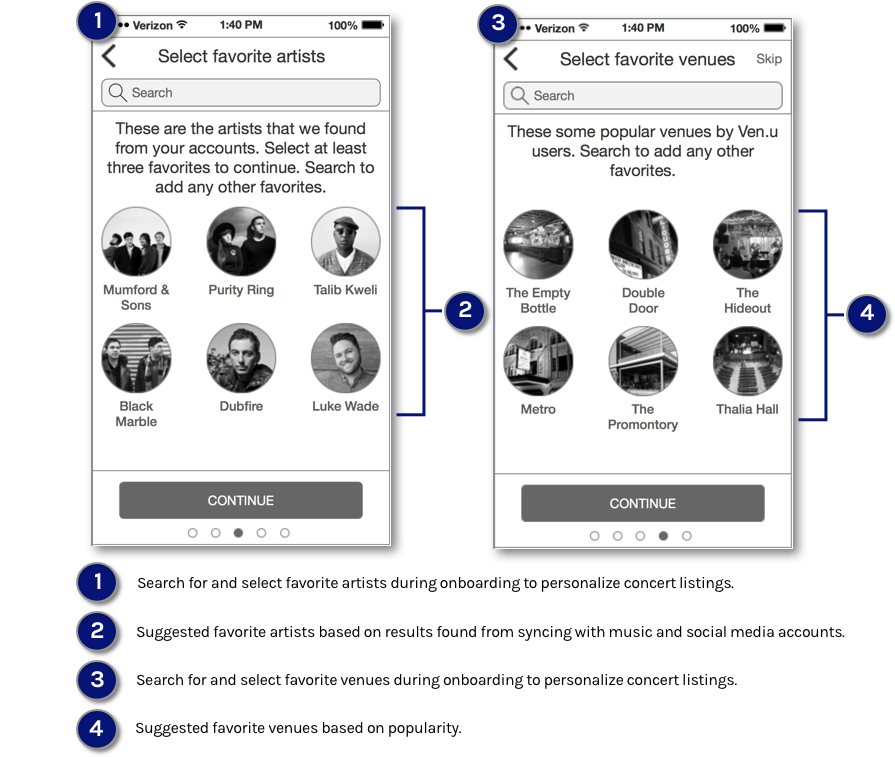 Discover concerts
The 'Find Shows' page displays recently added shows first. Users can filter shows by their favorite artists and venues to find shows of interest faster.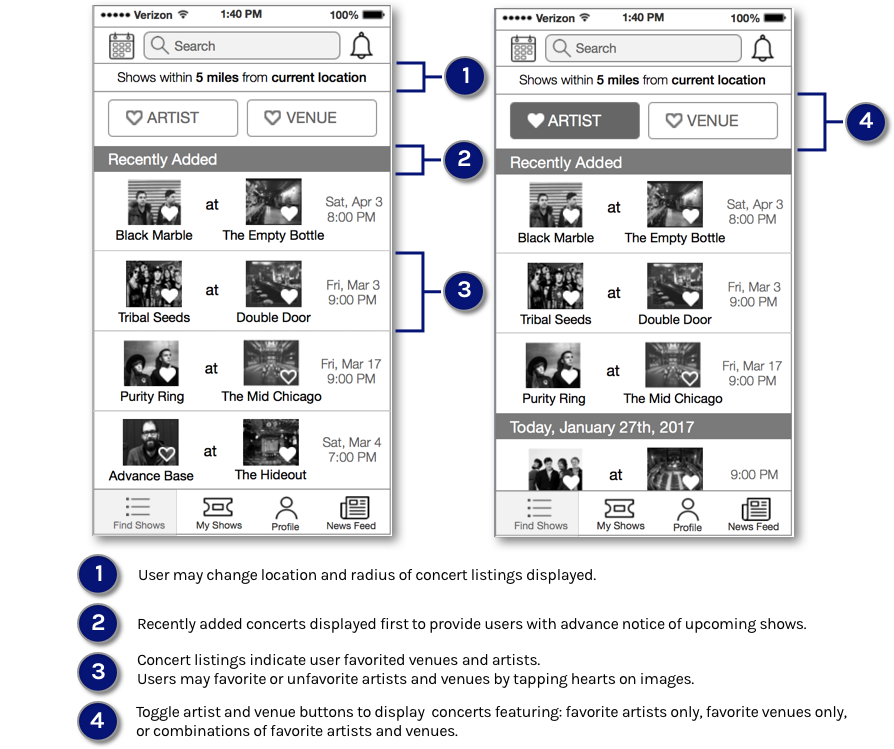 Book concerts
Users can flag shows of interest or book tickets on show detail pages. Upcoming shows may be added to the users personal calendar of choice so they can set a reminder.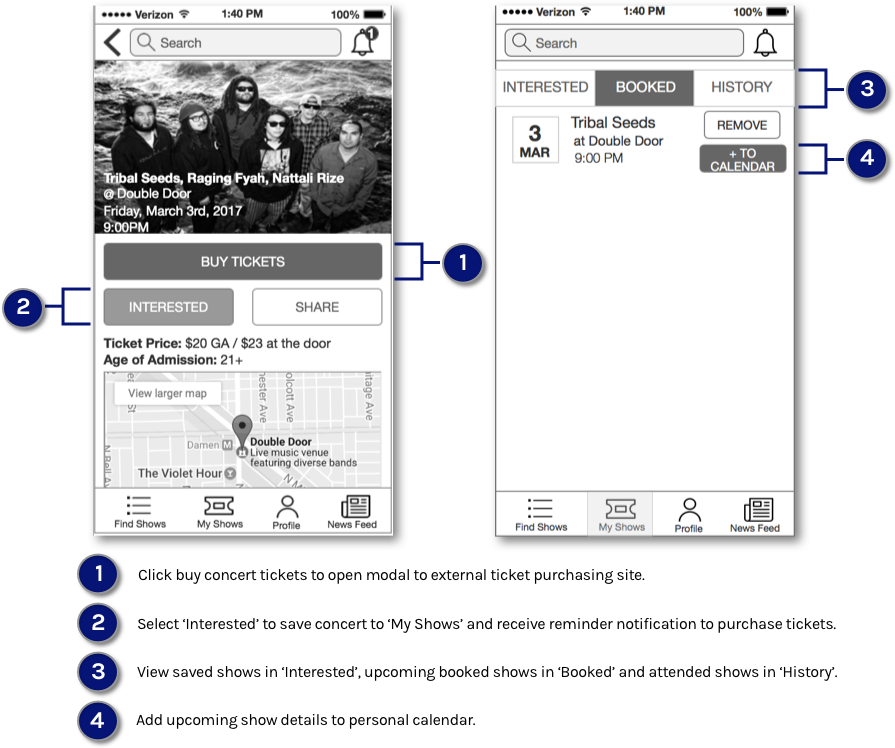 Check-in for rewards
Users are prompted to check-in when they are at a show to receive Ven.u reward points.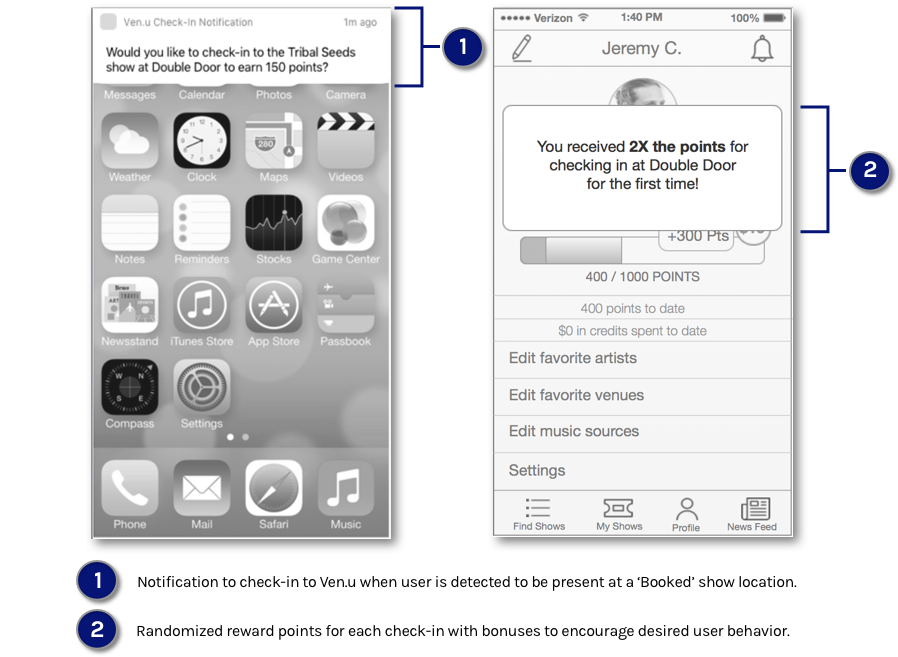 MEASURE
We began the project with a few key questions that arose out of our initial research and client assumptions. We concluded the project by answering these questions based on research and testing results.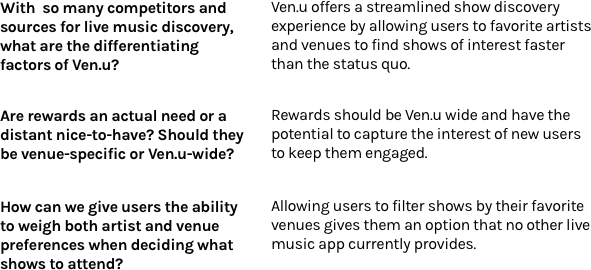 We presented the final prototype of Ven.u to our clients and they were overjoyed with the result. Although we invalidated some of their initial assumptions during user research, we handed over a final product that met the needs of their users, stakeholders and business objectives.
GUIDE
We came up with the following next steps that would provide further value to Ven.u users as informed by user testing:
Provide bonus point rewards for frequent check-ins or purchasing tickets at specific venues during promotional offers. These are additional ways to encourage desired user behavior.
Concept test various credit redemption structures with users as we received mixed feedback about what users would like to spend credits on during testing rounds.
Send push notifications to users when their favorite artists have a announced a show in their local area since users expressed concern about missing out on their favorite artist.
Provide venue and artist email newsletter updates in the app so that users can receive this information in one place.
Allow favoriting at additional touch points such as artist detail or venue detail pages.
REFLECT
We started with the challenge of designing Ven.u in a space with many competitors. We approached this challenge by seeking product differentiation that addressed the needs of the users, the desires of stakeholders in the live music industry and the business constraints of our clients. We developed a tool to perform tasks that users were currently performing through multiple channels while offering unique value propositions including venue favoriting and reward incentives. I learned how to design and advocate for the user while balancing client expectations and objectives.
Taking a leadership role in the team meant that I needed to guide the project to completion while being conscious of the differing personality types and working styles of my teammates. As I am an extrovert and both of my teammates were introverts, I often offered them the opportunity to speak first to keep myself from framing the conversation before they had their thoughts heard. Adapting to this unique team dynamic prepared me to adjust my behavior and communication style to complement the strengths and weaknesses of my teammates in my career as a designer.